communities & scientists working together for
PLM and Cartong collaboration mapathon event:
As part of the GeoNight, CartONG (French NGO specialized in Information Management and mapping  for humanitarian and development sectors) coordinates several mapathons with organizations like yours in France and abroad. In 2019, 17 mapathons took place for GeoNight, gathering more than 500 mappers. You can find here a webmap of the events.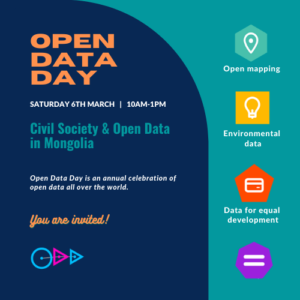 March 6th is the international Open Data Day! On this day, we are inviting participants from the local civil society interested in contributing or learning about open data, tools and resources using OSM (Open Street Map). The event will have a short introduction on open data, followed by discussion sessions with participating civil society members in topics including environmental data, tracking public money flows, and data for equal development. Finally, training on open data mapping will be provided so that participants can contribute remotely by mapping the ger district infrastructure in Ulaanbaatar.
Watch live event HERE.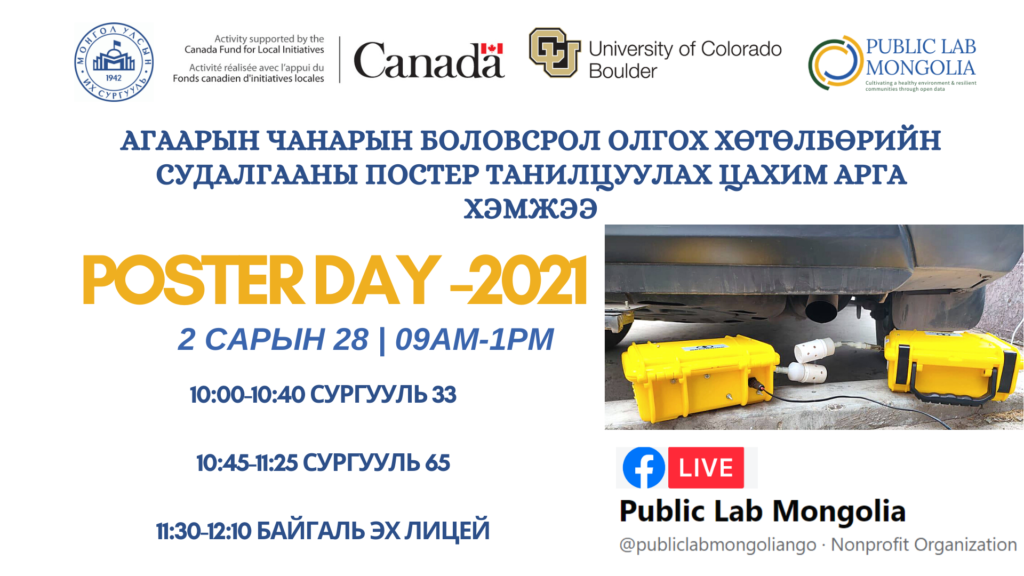 WHAT IS AQIQ program? 
AQIQ /Air Quality Air Inquiry Program/ is an international youth program on air quality education based on STEM curriculum. Students participating in the program carry out air quality experiments and independent research projects. The 2020-2021 AQIQ program is being successfully implemented in three high schools in Ulaanbaatar, involving 6 university mentors and 60 high school students, by Public Lab Mongolia, in partnership with the National University of Mongolia and the University of Colorado Boulder, with support from the Canada Fund.
What is poster day? Program participants conducted their own air quality research projects using "Pod" – a new age monitoring devices. The poster day aims to raise awareness about air quality among participating students peers and communities by each team of high school students present their research posters during the event. Total of 12 research projects will be presented. 
Watch live event HERE. 
C2M2 project: ended
UNAA project: ongoing
Air Quality Inquiry Program: Active
UNESCAP Forest assessment: ended
Community Assessment of Solid Waste Management: ended
Secondary Cities project: ended
Other
C2M2 project: ended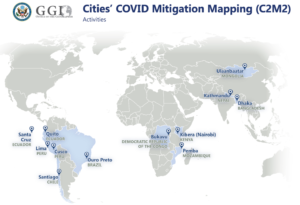 The COVID-19 pandemic has rapidly spread around the world affecting public health and having cascading impacts on nearly every aspect of human life. Challenges from COVID-19 extend far beyond the illness, to include disruption of the global economy and local socio-economic relationships.
The COVID-19 pandemic will continue to challenge vulnerable populations and communities long after the infection numbers peak. Many vulnerable populations around the world are experiencing a new complexity the virus is bringing to existing challenges such as poverty, food insecurity, obstacles to social, economic, and labor mobility, and access to education. Understanding these second-order impacts will help officials as well as civil society organizations mitigate negative effects and strengthen responses to address growing economic, health, and education needs.
The Cities' COVID Mitigation Mapping program (C2M2) builds on global networks of geospatial experts to analyze second-order impacts of COVID-19. The goal of this program is to increase the capacity to understand the distribution and gaps in resources available to vulnerable populations in urban communities. This program has three regional hubs in Africa, Asia, and Latin America, where select local organizations, with regional geospatial and community development expertise, identify and work with various local project partners to develop and guide C2M2 projects in each region.
C2M2 projects build local capacity to utilize open data and geospatial technologies, strengthen international partnerships, and create new data and analyses to inform data-driven decision making for planning to mitigate COVID-19 second-order impacts. Project partners will focus on key themes: food security, informal economy, tourism, health, and mobility to address second-order impacts of COVID-19.
More information about project: https://mapgive.state.gov/c2m2/ 
Covid-19 cases in Mongolia: https://covid19mongolia.mn/,  https://covid19.mohs.mn/
UNAA project: ongoing
Air Quality Inquiry Program: Active
UNESCAP Forest assessment: ended
Community Assessment of Solid Waste Management: ended
Secondary Cities project: ended
Other
We are looking for an intern to work on communication tasks, including managing social media accounts, creating content based on programs and projects.
We are looking for program  intern to assist with ongoing programs and compile research related to environment and public health sectors.
If you are interested in volunteering with us, send us an email with your Resume and a few sentence on what activities you would like to get involved.